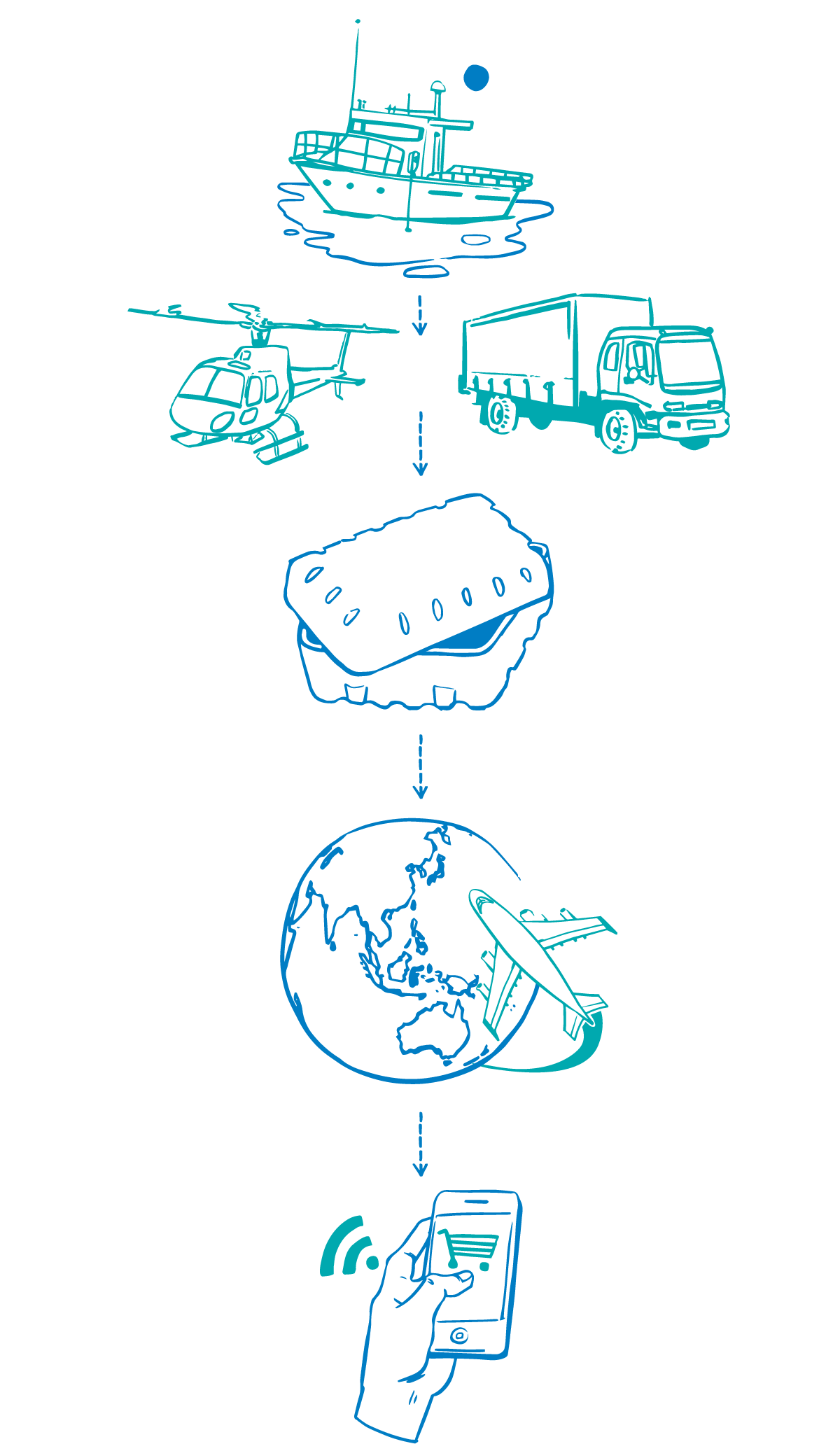 Global Logistics
Attention to detail is essential throughout the supply chain. As the world's largest supplier of Southern Rock Lobster, 100% specialised in this field, we constantly look to refine every detail of handling, to deliver the best.
Live-caught – Fishermen leave their home ports before daybreak to travel along remote, wild coastlines to their particular fishing spots. There they check their catch pots, keeping only the strongest adult lobsters, returning any others to the sea. The day's catch is held onboard in seawater wells for the trip back to a Fiordland Lobster Company landing depot.
Receival – Our landing depots are licensed to land and record lobsters under New Zealand's Quota Management System. They maintain seawater tanks for holding and resting lobsters overnight or longer. In remote areas such as the Sounds of Fiordland National Park, the day's catch can be collected by helicopter directly from the fishing boat, and airlifted direct to our Te Anau facility.
Transportation – Catches are collected from depots by our own fleet of temperature and humidity controlled trucks, and taken to the nearest Fiordland  Lobster Company export facility. Here the lobsters are swum again in seawater for 24-48 hours to rejuvenate them before being packed for export via Christchurch and Auckland international airports.
Export – Ready to begin their travels, our lobsters are packed carefully. Packaging includes cushioning material to keep lobsters comfortable and prevent them from harming themselves and the others around them, as well as ice packs and insulation to maintain their preferred low-temperature range.
Arrival – on arrival, our lobsters can be swum again in the tanks of wholesalers at live seafood markets, or transported directly to restaurants, hotels and supermarkets in a number of countries, especially China.
Point of sale – Lobsters are held again in live saltwater tanks in restaurants and supermarkets until selected by a diner or shopper, or ordered online for home delivery. Fiordland Lobster Company is focussed on supplying the best quality lobster all the way to the final consumer.